What can I do to keep my child's teeth healthy? (for children under 3 years old)
Give your baby the best start by looking after their teeth.
A guide to looking after your baby's teeth
Milk teeth
Teething
Tooth brushing
Tooth decay
Weaning
Cups & bottles
Dummies & thumb sucking
If you are concerned about your baby's dental health, please seek advice from your Health Visitor, Doctor or NHS Direct.
To find an NHS dentist in your area visit: www.nhs.uk and type 'find a dentist' in the search box
Key messages for healthy teeth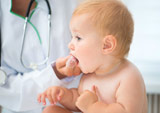 Brush your baby's teeth twice a day with a smear of fluoride toothpaste.
Weaning foods should ideally be free from, or low in added sugars
Make sure you take your child to the dentist.
If your baby needs to take medicine please ask for the sugar-free version.
Last reviewed: 11/03/2021