Where can I go / who can I talk to for support?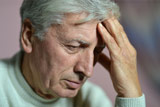 If you are worried about your mental health and wellbeing, and are finding it difficult to cope, you're not alone - there is lots of help and support available in Buckinghamshire:
GP: You can visit your GP for confidential advice and support
Heads Up – Heads Up exists to help men stay happy. It provides a toolbox that can help overcome common issues like trouble sleeping, feeling low and money worries and also has an online check-up to help assess your own wellbeing. It also provides information on support.
Healthy Minds – (is a NHS service offering quick and easy access to talking therapies, practical support and employment advice). You can self-refer by telephoning 0844 225 2400, texting "TALK" and their name to 0779 866 7169, email, or visiting their website. The website also provides access to a range of on-line evidence-based self-help resources.
Bucks MIND provides support to people with mental health needs and offers one-to-one peer support and more. Tel: 01494 463364.
Cruse Bucks (Bereavement) by either telephoning 01494 766 455 (Amersham), 01296 425757 (Aylesbury), 01494 511 117 (High Wycombe) or by email.
Buckinghamshire and Mid-Thames Relate (Relationships) by telephone: 01296 427973 or by email.
Carers Bucks (unpaid carers) by phoning 0300 777 2722 (calls charged at local rate) or by email.
CALM (Support for Men) helpline /and webchat service which is specifically to support men (from September 1st 2015).
Age UK Buckinghamshire (Vulnerable and isolated older people support) can be accessed through by calling 01296 431911.
Lesbian and Gay Switchboard (LGS) For lesbian, gay, bisexual & transgendered people and communities, free and confidential advice can be accessed via 0300 330 0630 (Daily 10am-11pm).
National Domestic Violence For help and advice about domestic abuse call helpline: 0808 2000 247. A list of local support services are also available.
National Debt Helpline / Citizens Advice Bureau For free debt and welfare advice call the on 0808 808 4000 or contact your local Citizen Advice Bureau
The Samaritans - open 24 hours a day – 08457 909090 / Child Line 0800 1111 – free and confidential helpline for children and adults in the UK.
Papyrus (Prevention of Young Suicide) - helpline 0800 068 41 41.
GP: You can visit your GP for confidential advice and support
Time to Talk Bucks – a new countywide counselling service, gives young people across Buckinghamshire free, easy-to-access service offering non-judgemental and confidential support in a safe and friendly environment. The Time to Talk Bucks service can be contacted confidentially on 0845 408 5022 or 07764 210398 or by email: counselling@timetotalkbucks.org.uk
Schools – Some schools will have access to a counsellor on-site. Your head of year will have details.
Young Carers Bucks – Are you aged between 6 and 18, and regularly looking after someone in your home who has a long term illness/condition? Young Carers Bucks could offer you help and support.
Connexions – offer free counselling support for 13-19 year olds. Appointments can be made a t venues throughout the county. To make an appointment with a counsellor or to find out more, please call 07764 210398.
Bucks Family Information Service – Buckinghamshire Family Information Service is an online resource that provides details of Childcare, Children's Centres, Leisure and Recreation, Early Help, Youthspace and information for families with children who have disabilities or special educational needs. You can access this information in a number of languages as well as via an audio facility.
YES – Youth Enquiry Service, based in High Wycombe, offers free counselling, information and support for 13-25 year olds.
CAMHS – provides mental health services for children and young people aged 0-18 years. Referrals must be made via a professional who knows the child or family e.g. GP, teacher, school nurse, social worker, etc. Young people aged 16-17 are also now able to directly self-refer via the phone. Further information:
https://www.bucksfamilyinfo.org/kb5/buckinghamshire/fsd/service.page?id=6peSu41Jd5Q
http://www.oxfordhealth.nhs.uk/fresh/bucks/
Child Bereavement UK – If someone important to you has just died, or you have just found out they are very seriously ill, you are not alone and you can get help and support. If you need to talk to someone you can email via the website, or call on 01494 568900 – your call will be confidential.
The Young Minds – contains lots of useful information on mental health and emotional wellbeing for young people, parents and professionals.