What are the effects of smoking on the body?
If you smoke you are more likely to develop several different types of cancer including lung, mouth, bladder, pancreatic, stomach and cervical cancer.
You are also more likely to develop heart disease or suffer from a stroke.
Smoking causes many respiratory diseases such as chronic obstructive pulmonary disease and asthma.
Smoking causes peripheral vascular disease, which reduces blood flow to the limbs and can result in amputations.
Smoking can also effect fertility and cause impotence.
On average, cigarette smokers die 10 years younger than non-smokers.
Smoking has also been shown to cause some mental health disorders, including anxiety and depression.
Do you know about the harm second hand smoking can cause?
Second-hand smoke can cause serious harm, particularly in children and infants.
Children who are exposed to secondhand smoke are at increased risk of developing asthma, middle ear infection and meningitis along with many other conditions.
Mothers who smoke in pregnancy have an increased risk of premature birth, low birth weight and still birth.
Smoking during pregnancy is known to increase the risk of a miscarriage.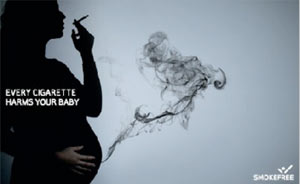 Last reviewed: 18/12/2017