Falls and bone health

Falls and the fear of falling can seriously impact on the quality of life. A fall may not only result in a physical injury but can lead to social isolation, reduced mobility and independence.
Did you know that one in three people over the age of 65 and one in two of those aged over 80 fall each year in Buckinghamshire?
Our aim is to encourage people to:
MOVE MORE, FEEL GREAT!
STAY STEADY AND STAY STRONG!
Buckinghamshire County Council pays for a local Falls and Bone Health service for local residents and it provides a vital service for those who have either experienced a fall, or are at risk of falling. The service includes a highly skilled team of advisers who offer a range of information and expert advice for service users, carers and families on falls. Those who have actually fallen, will receive an in depth assessment and offered a Better Balance exercise programmes with a choice of settings, including leisure centres and delivered by highly trained instructors, Better Balance helps rehabilitation after an unfortunate fall and improves balance and strength to prevent further falls.
For all information on Falls and Bone Health in Buckinghamshire and/or to make a self-referral please contact:
Telephone: 08442 - 252403 (Locally Charged Telephone Rate)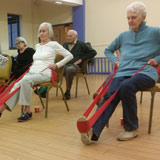 Last reviewed: 19/05/2016